Published in The Moderate Voice on January 12, 2017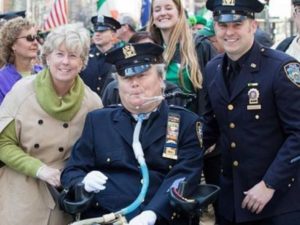 Detective Steven McDonald, his wife Patricia and son Conor were always a threesome
Photo via patch.com
This week, New York City lost an icon. He wasn't as universally notorious as Wall Street or Fifth Avenue nor even the Carnegie Deli, which also shut its doors but to longtime New Yorkers, his name was as recognizable as any landmark. His depth was not the Empire State Building or the Brooklyn Bridge but his bravery was. Ditto for his strong spirits, his wit and his power to forgive. The man of course is Detective Stephen McDonald who died earlier this week 30 years after being gunned down by a robber and confined to a wheelchair for life. He was two months shy of his 60th birthday.
McDonald, a Central Park station house cop and Navy veteran, was paralyzed from the neck down after being shot by one of the two young teenagers he had confronted who "looked suspicious." One, Shavod Jones, proceeded to shoot him three times and one of the bullets hit his spine (another was lodged in his throat which would impact his speaking ability.
McDonald's initial prognosis was dire. Some said he would not survive more than a few days. Others said death was imminent within a few years. Meanwhile, his new wife Patti Ann had been pregnant with their son Conor. But he gradually made progress and though confined to a wheelchair and a respirator, was feted like a king by New York City Mayors and Cardinals over the years. McDonald gave countless interviews. Bruce Springsteen babysat for Conor. The New York Rangers established an award for him, the "Steven McDonald Extra Effort Award." Upon his death, the Rangers lauded McDonald. In a panegyric statement, they noted he "exemplified the true meaning of the word hero and also personified the 'Blueshirt Faithful.'"
Indeed, refusing to go off-duty (he was promoted to detective in 1995), McDonald became a voice for the aspiring. He addressed police graduations, spoke to students and literally became an ambassador of goodwill. Astonishingly, that gesture extended to his own assailant.
As his recovery was in its early stages, McDonald said that he had no animus toward Jones, saying,"I forgive him, and hope that he can find peace and purpose in his life." He expressed hope that the duo could give lecture together focusing on forgiveness. That would never come. Jones was killed in a motorcycle accident after his release from. prison. McDonald was bereft. But he wouldn't stop trying to help others. He became the first disabled person to participate in the St. Patrick's Day parade – though under the stipulation that other disabled groups be allowed to participate as well). He journeyed to Israel, Ireland, Bosnia and other war-torn nations. Meanwhile, Patti Ann gained some stature as well. She became Mayor of the Long Island village of Malverne in 2007, a position she holds today.
Those actions made him known as a saint to those around him. Ex-New York City Police Commissioner Ray Kelly called it "not beyond the realm of possibility that the Catholic church will recognize that" in the formal sense. NYPD First Commissioner Ben Tucker called McDonald "a gift to the city." And NYPD Chief o Housing James Secreto, McDonald's sergeant, told reporters, "If there's a better guy in this world, I want to meet him,"
Through it all, he kept his humor. Asked if he'd do anything different if he had it to do over, McDonald quipped "duck." Meanwhile, his family was everything. Having hailed from an Irish-Catholic family of eight children, it would be extraordinary for McDonald to be seen without Patti Ann, often with Conor by their side, and almost always in uniform (Patti Ann herself has been described as a saint in recent days).
Speaking of family, McDonald received many gifts but his biggest might have been Conor's decision to become a cop, just like the daddy he almost never knew. It was only natural as McDonald's father and grandfather were both city police officers (the eldest Detective McDonald was himself wounded while apprehending a suspect in 1936).
In the song, "New York, New York," Frank Sinatra's immortal words are, "if you can make it here, you can make it anywhere." You made it Detective. And just as when a hero falls an angel rises, you'll be soaring above the city you love and protecting it through the ages.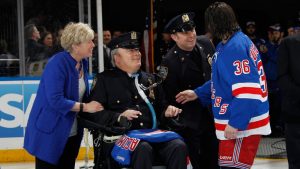 Presenting the annual "Steven McDonald Extra Effort Award."
Photo via nhl.com