The fight for control of the House is taking shape as Democrats have apparently landed two State legislators to challenge a pair of junior Republican incumbents. The districts – the affluent, booming suburban Virginia-10 and the poor, job losing Illinois-13, are obviously as disparate as night and day. But for Democrats, one thing the districts have in common is that they have been frustratingly elusive for years. The party hopes these latest recruits will change that. But both recruits may face primaries before finding their way to the general.
On paper, these two districts represent a vanishing breed of turf that was drawn to be at least close to swing territory. Comstock's district was drawn to favor a Republican nominally but reliably yet is quickly trending the other way. Davis' district was drawn to at least nominally favor a Democrat but at the national level, has veered toward the GOP.
Comstock, who prior to her election to the House was a Virginia State Senator, has positioned herself as a moderate and refused to endorse Donald Trump after the release of the "Access Hollywood" tape. Voters were apparently satisfied by that distance, as she held off LuAnn Bennett 53-47% as Trump was getting trounced by ten points. But with Trump in the White House, next year might pose a more difficult problem. Exhibit A is Comstock taking heat for waiting until late to declare her opposition to the initial ACA repeal act that House leaders eventually pulled. It is perhaps mindful of that backlash that she announced her firm opposition to the latest package hammered out earlier this week. But Comstock has not held town meetings since her new term began in January and the preferred candidate of national Democrats, State Senator Jennifer Wexton has already referred to the "Trump-Comstock" agenda.
Democrats succeeded bigly in luring Wexton to the contest (she initially appeared heavily reticent). Wexton won her seat in 2013. The population centers are Fairfax and Loudoun Counties. Comstock won Fairfax by the skin of her teeth while battling Bennett to a draw in Loudoun (she actually lost it by 165 votes out of 179,000 cast). Manassas/Manassas Park is also heavily Democratic. Comstock has breathing room from Prince William and Clark Counties but only small portions fall into the 10th – and voters in the past have proven themselves fickle enough to go the other way.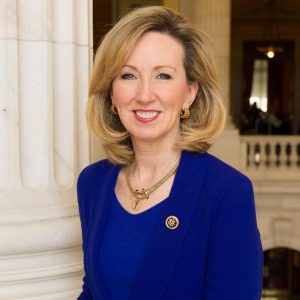 Barbara Comstock
Official U.S. House of Representatives photo
The district has been one of the fastest growing in the nation which means many new voters are moving in at an abundant pace. and former vice-presidential nominee Tim Kaine will be topping the ballot which means that turnout, particularly in a Trump mid-term, likely won't be an issue. Wexton does faces a primary with ex-VA official Lindsey Davis-Stover and two others. Dorothy McAuliffe, wife of the outgoing Governor, has toyed with seeking the seat but Wexton recently unveiled the endorsements of some of her would-be colleagues in the Congressional delegation.
Comstock uses her perch on the Government Operations Committee to address the needs of federal workers. But Wexton will likely pick up where past Comstock opponents left off – that her vote for GOP House control actually imperils the betterment of federal workers. She may also contend that Comstock is not sufficiently centrist enough for the district. For instance, she does oppose same-sex marriage.
This district was among the most nationally watched and ferociously contested of 2016. There is no reason to think that won't be the case next year as well. Whether that means a Democratic takeover depends on whether Trump's ratings have stabilized. Comstock's Achilles heel is that Republicans now control everything. And Wexton has a key advantage Bennett lacked – that being she already represents a portion of the district as a legislator and, that she is a former prosecutor from quintessential swing Loudoun, Wexton knows a key to unseating Comstock will be out-polling her by an even bigger margin in that county that Bennett. The bottom line: if voters want checks and balance, the incumbent will have a big problem.
By the 2008 lines, Illinois-13 would have given Barack Obama 54%. This was enough for Democrats to view the district as a sure-thing in an open Congressional race four years later. But Obama narrowly lost the district and an Independent candidacy cost the Democratic nominee, David Gill, the election by 1,000 votes. By 2016, the district favored Trump by a 50-43% margin, not as a radical a shift as some of its Midwestern neighbors but a still obvious departure from the way Democratic mapmakers envisioned it in 2012.
Davis has tried to build up a rapport with his constituents and also announced he would not be backing Trump after the release of the "Access Hollywood" tape. But he recently took heat for holding limited town halls. And unlike Comstock, he not only supported the ACA repeal but ostracized opponents for successfully leading the bill to a certain defeat. Yet the Center for American Progress noted that 39,300 people in Illinois-13 would have seen their coverage lost had that ACA repeal been enacted.
In State Representative Carol Ammons, the party feels they have a path forward. In 2014, she defeated a primary opponent far better known and supported by the Illinois House leadership, then captured the district with 61%. She was unopposed for re-election in '16 and focused much of her attention on supporting Bernie Sanders for the nomination. Recently, she introduced the The Responsible Job Creation Act which would put sweeping new regulations on the temporary job staffing industry, a move certain to be opposed by business. Ammons hasn't officially declared that she is running – she said that will come around July 4. But she has formed an exploratory committee and is embarking on a "listening tour" throughout the district so all signs point to a go.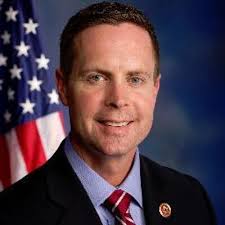 Rod Davis
Official U.S. House of Representatives photo
The dynamics in this district are somewhat more difficult than Virginia. The university towns of Bloomington, Champaign, and Urbana (along with a portion of Springfield) are cancelled out by the rural, small-town farmland that heads into coal country (though not as extensively as the neighboring 12th district, which is held by Davis' former boss, John Shimkus.
Ammons has a strong base in the Champaign/Urbana area but will have to make inroads elsewhere. Whether she is too liberal remains to be seen. Turnout among students will likely drop, but a Governor's race that is likely to be hotly contested through the end. And if anyone has the energy to woo the student base, Ammons may be that person. Ammons can. Past numbers suggest she has a path.
In closing, Democrats will need far more than Virginia-10 and Illinois-13 to go right in order to take control of the House. But with their relatively early poll closing times, doing so will mean they are off to a good night nationally.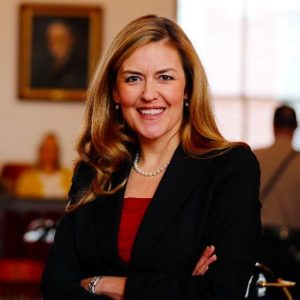 Jennifer Wexton (above via the Fairfax Democratic party) and Carol Ammons (below via Center for Progress) are two high-profile challengers to two GOP incumbents in key districts