Last week, the Cook Political Report downgraded the re-election prospects of 20 Republican House members. While the moves were based on the Congressperson's electoral situation as a whole, it was primarily a reaction to their votes backing repeal of the Affordable Care Act. In his column, House editor Dave Wasserman noted how, "Not only did dozens of Republicans in marginal districts just hitch their names to an unpopular piece of legislation, Democrats just received another valuable candidate recruitment tool."
With the election 18 months away, no one can be certain exactly how much last Thursday's vote will motivate the electorate. The Senate is working on a vastly different version of the bill and while it's not guaranteed that one will pass, a House-Senate conference committee will work out the differences. Members may try to make the bill as politically palatable as possible. And other issues may dominate. That said, it's won't be that hard for Democratic challengers to run an ad reminding voters that their opponent voted for the legislation and the issue has proven passionate enough to motivate an inestimable number of voters, including those who have never been involved with the process. For this issue, the only direct parallel may be the election of 2010 when Republicans gained 63 House seats and the majority. This came the Spring after the Affordable Care Act had been enacted, but more than a year after the angry town meetings. What this reveals is that on an issue as close to the heart as healthcare, voters have long memories. That said, allow me to look at some of the GOP members whose political fate may have been altered as a result of Thursday's vote. That said, let's look at some of the individual members who might be most impacted.
The most surprising "yes" vote by far was Carlos Curbelo. An American Progress study of each Congressional district showed the Miami district he represents has 78,500 people who would lose coverage under the bill, one of the highest in the nation for a district held by a Republican. Add that to the fact that Hillary Clinton carried the district by a wide margin and Curbelo might seem like a dead man walking. His South Florida colleague, Ileana Ros-Lehtinen, who opposed the measure, saw the handwriting of the climate on the wall and announced her retirement. With Curbelo only serving his second term, no one expects him to follow Ros-Lehtinen's lead. But when it comes to returning to Washington in January of 2019, their fates might be the same.
Darrell Issa of California was a mild surprise, but certainly would not have been prior to last year. Issa's 1,600 vote re-election was the smallest winning margin of any House member and his close shave had been unthinkable in years past. Since then Issa, has been acting like a flaming moderate and as a sign of the pressure, testily told reporters "none of your business" when pressed as to how he'd vote.
Rod Blum of Iowa was not a major surprise, if only because he is a member of the Freedom Caucus, but he does hold a district that favored Obama twice by comfortable margins but Trump last year by 4%. His uneasiness was on full display when he walked out of an interview after just two questions, then proceeded to have a very testing town-hall meeting that started with health care but quickly turned into Russia, which is yet another impediment that will confront Republicans. But a recent poll showing Blum trailing a generic Democrat by 15% – with a re-elect at 32%, illustrates just how perilous his situation is. While it's true that Blum was similarly considered to be a dead man walking last time, polls rarely showed him trailing, much less by such a punishing margin.
Rod Blum's re-election prospects may be going from bad to worse following his ACA repeal vote
Other incumbents who have become far more vulnerable: Pete Sessions of Texas who, as Rules Committee chair governed the terms of House debate on the measure and — The prospects of two Central Valley Republicans – Jeff Denham and David Valadao, were certainly not helped by their "yes" votes in districts with increasingly Democratic bases but, Democrats have notorious voter-drop-off that occurs in mid-term years that they'll have to figure out how to deal with in order to get over the top. Further South, a trio of Orange County Republicans who sit in districts Clinton carried – Dana Rohrabacher, Ed Royce and Mini Walters may be facing backlash over ACA (and in the case of Rohrabacher, perhaps a couple of other things) but because Trump 's poor showing was an outlier for Republicans, it remains to be seen whether Ds have the apparatus to take them out.
Other Congressman, including some in districts with a decided, albeit not overwhelming Republican lean, such as Tom Reed of New York, have been pummeled as well. Additionally, the district of Peter King of New York, which took on new Democratic turf in the last remap, will probably find himself with a race on his hands and for the first time in my adult life, a loss is not out of the question. His upstate colleague, Chris Collins, has less to worry about but has a habit of causing himself unwarranted problems. In his first race for the seat, he declared that "women aren't dying from breast cancer anymore." This time, he had to admit that he hadn't read the bill.
Then there are the "architects" of the legislation. Michigan's Fred Upton has had minimal sweating throughout his 16 terms in Congress but that is certainly going to change next time. Now Upton might not give Democrats the opportunity in that capacity. Sources say he is flirting with challenging the state's senior Senator, Debbie Stabenow in 2018 and while I never saw Upton beating Stabenow, now his chances – should he run, are near non-existent. As it is, he'll have to fight to hold House seat and he may just decide that after 32 years and no longer holding a committee gavel, calling it a career makes sense.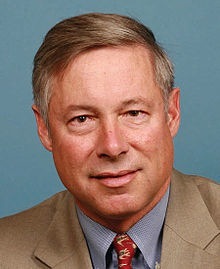 Will Fred Upton risk going out with a loss or call it a career following a 32 years House career
1994, 2006 and 2010 brought down members who didn't emerge as vulnerable until late in the game. Members such as Dan Glickman, Jim Ryun, Melissa Hart, Jim Oberstar, and Gene Taylor.That said, the vote could yield other surprises that might be less than evident right now. The tepid special election victory last month by the GOP candidate in a Kansas district that gave Trump 60% shows that even previous hefty margins for that party's contender can translate to a near dead-heat in circumstances such as this. It wasn't long ago that Democrats had held Kentucky's Sixth Congressional District and the party seems poised to nominate strong challenger to face Congressman Andy Barr. Ditto for Tom Garrett in Virginia-5. Mike Bishop and Dave Trott hold Republican leaning districts in Michigan but their strength are likely to be tested like never before.
New Jersey's Tom MacArthur was, along with North Carolina's Mark Meadows, the man most responsible for making the ACA repeal vote a reality. Meadows is safe in his very conservative but many New Jerseyans, along with fellow members of the "Tuesday Group," are shaken by MacArthur's prominent role – particularly since he was among just four Republicans at the beginning of the year who voted against the rule that would ultimately make changes. MacArthur is helped by increasingly blood red Ocean County but, so long as a Democrat carries Burlington substantially, simply holding his Ocean margin down might be enough to send him packing. Incidentally, another prominent New Jerseyan who backed the package after initially opposing the first draft, – Appropriations Chair Rodney Frelinghuysen, is gearing up for what is likely to be the most difficult race of his career. While he certainly starts out at least somewhat favored, he is anything but a shoe-in for another term.
The voter revolt might not just circulate among incumbents seeking re-election. It could also trickle down to Republican House members seeking higher office – even in deep red places. In Idaho, Raul Labrador's comment that people don't die from lack of health care was widely mocked.
Even many of the 20 Republicans who opposed the bill may find themselves unable to avoid voter wrath as harsh climates have a way of gobbling up even those who don't toe the party line that closely. In 1993, David Price voted against the Clinton economic package but lost his bid for re-election the following year. In 2006, Jim Leach of Iowa, one of six House Republicans to oppose the Iraq war, was defeated. Both members were surprise casualties of headwinds that were far too unfavorable for their parties to overcome. That same year, Rhode Island's Lincoln Chafee, as the only Senate Republican to oppose the war resolution, was unseated. Many Rhode Islanders said they revered Chafee, but wanted to send a message to the Bush administration.
That said, ten of the 20 members who opposed the ACA repeal hail from New York, New Jersey and Pennsylvania which means Repubicans such as Glen Costello, Pat Meehan, Leonard Lance and John Katko are well on guard. Mike Coffman of Colorado and Barbara Comstock of Virginia were already gearing up for the races of their lives – after already surviving the races of their lives this year but the vote may transcend the fact that voters want Democrats to take back the house.