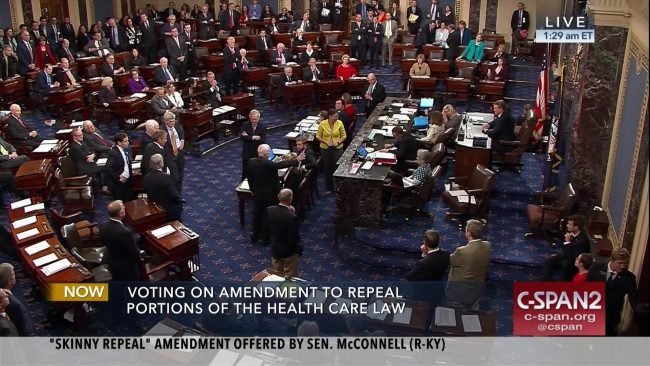 Published July 29, 2017
New York Telephone used to have a slogan, "we're all connected." This week, among the most tawdry, and vituperative in a city where those characteristics are often the norm, the rapid developments and confluence of events make the slogan applicable like never before.
The week in the nation's capitol saw more twists and turns than any in decades – and in a way, it's not implausible that it contributed to what so-far marked the biggest defeat of the Trump presidency – the failure of the Senate to advance what has been coined as a "skinny repeal," of Obamacare. But it was accompanied by public fighting between the president and his attorney general, the president and a handful of Republican Senators, as well as the president's new communications director and top aides. That's not even including the president's decree by tweet of a major military policy that disallows the transgender population from serving their country, a policy the Pentagon was apparently not even consulted about.
Anthony Scaramucci has been on the job one week and The New Yorker's Ryan Lizza reported he called Chief of Staff Reince Preibus"a fu—i-g paranoid schizophrenic, a paranoiac." By week's end, Preibus had resigned and been replaced by Homeland Security Secretary John Kelly. Scaramucci also had choice words for Steve Bannon that isn't fit for print. Scaramucci later said his mistake was trusting a the reporter but, if that was the case, wouldn't he have been wise to have invoked the "off-the-record disclaimer?" Press Secretary Sarah Huckabee Sanders pushed back on the infighting, saying, "This is a White House that has lots of different perspectives because the president hires the very best people. With that competition, you usually get the best results. The president likes that kind of competition and encourages it." That's very nice for a World Cup competition but when we're talking about the United States government, it's beyond unsettling. And that's without going into Jeff Sessions.
It's been said that the public cat and mouse games between Trump and Sessions is unprecedented. That's for darn sure. I understand the strategy. The president is clearly hoping Sessions will take the hint from the public baiting and humiliation and simply resign, so he doesn't have to say he fired him. It's a tactic that is more a playbook from a mid-level manager at McDonald's who doesn't want someone he's trying to get rid of to collect unemployment, rather than the President of the United States and leader of the free world.
Sarah Huckabee Sanders David Axelrod, appearing on CNN, may have expressed the feeling of many when, appearing on CNN, said that, "To have the president sanction this in his White House is alarming and it portends bad things for the future." And for now. Sessions for his part seems content and perhaps even amused and, armed with backing from his ex-GOP Senate colleagues, seems determined to stick it out., if only to spite his boss.
Then there are the public recriminations.
Lisa Murkowski opposed the president on the repeal and he didn't let her forget it – trying to publicly shame her via twitter, then having Interior Secretary Ryan Zinke contact her to inform her that Alaska projects could be at stake. Murkowski responded by showing the toughness and doggedness by which Alaskans are both legendary and renowned – returning fire with fire. The committee that she happens to chair – the Senate Energy and Natural Resources, happened to be considering nominations for deputy-positions and yesterday just happened to be the day they were to be voted on. These should have been routine confirmations but Murkowski simply postponed it.
Now came Obamacare. Lindsay Graham was perhaps the most vocal Senator defending Sessions, vowing "holy-hell" for Trump if he fired him. Some thought he might withhold his vote for "skinny repeal," which he was equally vocal about not liking because he didn't consider it sound policy and he and other Senators worried that the House would simply adopt it (Speaker Ryan vowed it would go to a conference committee). Graham voted for "skinny repeal" in the end but his Arizona colleague John McCain didn't. It was a 1:30 a.m. shock that dealt perhaps an unsustainable blow to Obamacare.
For many years, McCain was known as the quintessential maverick. Look up that word in the dictionary – at least prior to his 2008 presidential bid, and you'd probably find his name. But that's been severely put to the test over the past decade.
When McCain flew back to Washington D.C. from Arizona earlier in the week following his devastating brain cancer diagnosis, it was with the goal of being on hand if he needed to provided the decisive vote to proceed to debate – which in turn was what happened. He then proceeded to deliver what has been called both the finest speech of his career, and one of the best in Senate history denouncing partisanship (before ultimately voting with his party ).That it was – but it was in many ways contrary to at least some of his 35 year Congressional career. It's not that McCain doesn't work with Democrats – in fact he is notorious for doing so. But he often has returned to his corner when Mitch McConnell tells him he needs him (McCain and McConnell furiously battled back in the day over campaign finance).
Ironically and, likely inadvertently, McCain's vote meant that very vulnerable Senator Dean Heller of Nevada and his own Arizona colleague, Jeff Flake, walked the plank by voting "aye," expecting the bill to pass, only to have it go down. By that token, I am actually surprised a few Senators did not simply switch their votes to oppose the measure after it became clear that it would go down. Something similar had occurred in 2008 when Ted Kennedy – who ironically was afflicted with the same ailment as McCain's, made a dramatic Senate appearance to provide the 60th vote to break a filibuster on a stalled Medicare reimbursement bill for doctors. After the applause for Kennedy died down, a number of Senators switched their votes so as to not be recorded as "ayes." But not this time.
As McCain voted, McConnell stood in the well of the Senate with his arms folded. But will he fold? Shortly after the vote, McConnell, speaking on the Senate floor said,, "Now Mr. President, it is time to move on." McConnell of course was speaking to the President of the Senate but he might as well have been talking about Trump. But as Trump is fond of saying, "you'll soon find out."