Posted July 7, 2017 in The Moderate Voice
Summers during off-election years are typically when potential candidates began finalizing plans about launching, or declining Congressional bids and, putting aside the fact that recruitment and announcements really haven't paused since Donald Trump's election as our 45th president, this year is no exception. Asuch, this past week has seen a plethora of announcements on both the House and Senate landscape in races that, if not already key, may well be emerging as the calendar moves forward
The biggest headline – though not an earth shattering surprise, was the decision of Missouri Republican Congressman Ann Wagner to forego a race against two-term Congresswoman Claire McCaskill. Her official statement said "the Second District is my home," but that's political talk for, "I don't know if I want to jeopardize a safe House seat for a statewide bid I'm not guaranteed to win." It's unclear whether Wagner was more concerned a bid against McCaskill in the age of Trump or, an intra-party fight against Missouri's new Attorney General, Josh Hawley. One thing that is not ambiguous is that Wagner's heart was not in a Senate run. She had been raising money for a potential race but kept pushing her decision back. Her departure in no way means McCaskill is safe. It's Missouri, a state where Trump took 58% so, you have to show me. Even before Wagner opted that to run, some Republicans were high on Attorney General Josh Hawley. He just won the post last year so, it's not clear yet that he'll run but whomever the eventual nominee is will give McCaskill a race to the end.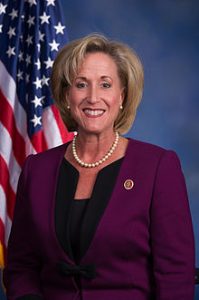 Wagner KO'D bid against McCaskill
Official U.S. House of Representatives photo
In Nevada, Dean Heller is arguably the single most endangered Senator of any party (he and McCaskill may be trading places for that distinction) and he may be the sole Senator who literally has no control over his own fate (the national mood will dictate all). Recently, first-term Congresswoman Jacky Rosen announced that she would try to unseat him. The track record for freshmen House members winning Senate seats is mixed, particularly for members outside At-large districts which cover the entire state. Waves years could be different. Mike Huffington of California came unexpectedly close to dislodging Dianne Feinstein in 1994. That same year, Minnesota's Rod Grams did capture an open seat. In 2014, freshman Tom Cotton of Arkansas made it to the Senate despite a very underwhelming campaign and a popular incumbent.
Rosen may not face a clear path to the nomination – First District Congresswoman Dina Titus is still toying with a bid. But she has been playing Waiting for Godot games for several cycles and never pulls the trigger. Besides, given that Reid and his powerful machine – including Congressman Ruben Kihuen, have thrown their backing to Rosen, her window is closing. Heller has taken hits from both the left and right over the ACA repeal. He is a strong campaigner but Nevada was a Clinton state and Democrats are sure to be organized as well. As long as Rosen shows decent political skills, this is likely to be ferociously contested til the end.
Turning to House races, two downstate Illinois districts were initially drawn to send Democrats to Congress but ended up trending right – in some cases hard. Now Democrats hope to correct it.
In the 12th district, St. Claire County State's Attorney and Navy veteran Brendan Kelly has announced plans to take on GOP Congressman Mike Bost. The incumbent took 54% last year but has often been the recipient of self-inflicted negative publicity (he threw papers on the floor of the Illinois State Senate during a temper tantrum and shot a neighbor's dog after it bit his daughter). This year, the incumbent drew fire for comparing his refusal to hold town meetings to "You know the cleansing that the Orientals used to do where you'd put one person out in front and 900 people yell at them? That's not what we need. We need to have meetings with people that are productive."
In positive environments for the GOP, voters have overlooked that but the climate has shifted 180 degrees. Bost's race may be a proxy between Trump and House Minority Leader Nancy Pelosi. As Kelly's announcement was got underway, Bost's office issued a statement vowing to "stop Nancy Pelosi from taking control of this seat."
Meanwhile in Illinois-13, the other, "Metro East" seat, Betsy Dirksen Londrigan has joined a trio of candidates – and perhaps a fourth as State Representative Carol Ammons ponders her intentions) seeking to dislodge three-term Congressman Rodney Davis. Londrigan is a fundraiser with strong ties to Senator Dick Durbin. These are poor district's with Medicaid dependent families and whomever emerges as the Democratic candidates to face Bost and Davis will be making hay out of their votes to repeal the ACA.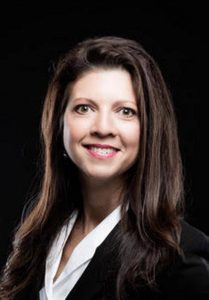 Betsy Dirksen Londrigan is among the bevy of Democrats hoping to unseat Illinois GOP Rep. Rod Davis
Photo via the Belleville News-Democrat
In Arizona, the most competitive race in both the primary and general election, will almost certainly be in the Second Congressional District. Martha McSally dislodged an incumbent by 167 votes in 2014, then beat State Representative Matt Heinz, an emergency room doctor, 57-43% in 2016 – a race Democrats largely abandoned to focus on more winnable opportunities. McSally is a juggernaut fundraiser but came under fire when an audio surfaced of her saying just before the ACA vote, "Let's get this f-ing" thing done."
Heinz is running again and already has a significant head-start – he raised $200,000 in just two weeks. But Democrats are on the verge of landing a new, prime recruit: ex-Congresswoman Ann Kirkpatrick, who represented Arizona's sprawling First Congressional District during two separate stints (she lost it after one term in 2010 but reclaimed it two years later). Kirkpatrick gave up the seat in 2016 to challenge John McCain in 2016. Kirkpatrick now lives in the Second and Heinz may make that an issue – but Kirkpatrick received her law degree from the University of Arizona and worked in Pima. Another legislator, Bruce Wheeler, is in the race as are five other candidates.
Virginia's Second Congressional District may be a microcosm of how much trouble the rank and file Republicans are in. Construction company owner Garry Hubbard has joined Dave Belote, a retired Air Force Officer (whose claim to fame is winning $135,00 on Jeopardy) in announcing bids to unseat freshman Republican Congressman Scott Taylor.
Taylor took 61% in 2016 (Trump won it 49-45%) but Democrats only fielded a nominal candidate against him. Taylor has tried to keep some distance from Trump and received national attention for a strategy designed to quell the anger from vocal Trump opponents at town-halls. "We've got to remain calm. Calm is contagious," Taylor has also tried distancing himself from some of Trump's more controversial stances, including his media bashing. He has scolded the media for "getting played" by Trump for "overreacting" to his tweets. He has been telling Trump and the intelligence community to "get on the same page." His Appropriations Committee seat won't hurt either, both when it comes to raising money and helping the military-friendly district. Both Democrats see Taylor's health care votes as feet of clay and they're making it clear he intends to take a hammer to it. How competitive this race will become is yet to be determined but one thing is certain – Taylor will not be able to coast like last time.
Other races taking shape: Kentucky-6, held by Republican Andy Barr (Rand Paul lost the district) and Colorado-3 where Scott Tipton will be seeking a fourth term. Kentucky State Senator Reggie Thomas and Colorado State Representative Diane Mitsch Bush respectively have declared this week, and though both will face primaries, they are heavyweight opponents. These are more Republican leaning terrain but as elections this Spring in far more conservative districts have shown, it doesn't take much to shift a critical portion of the electorate to Democrats, even if they ultimately come up short. Plus, Democrats have held both seats within the decade.