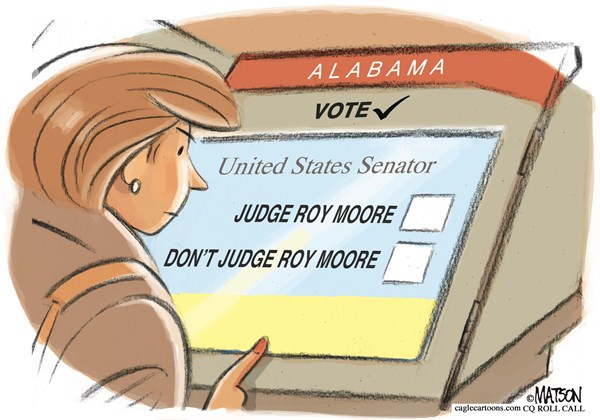 The most topsy-turvy race in Senate history is about to come to an end as Alabama voters finally go to the polls to fill the seat that Attorney General Jeff Sessions vacated in February after a spinechilling and unspeakable campaign that has no doubt made observers want to pinch themselves to see if its really happening. And sadly, it is. It is not a dream.
The campaign has been nightmarish of course for the people of Alabama and the United States. And of course the term nightmarish is not meant in the political bloody sense even though the race has been a slugfest but rather, nightmarish in the sense that the allegations against Roy Moore – and not just in the area of sexual harassment, have been as ugly and Unbecoming for a potential US senator
It goes without saying that the only thing that Doug Jones and Roy Moore have in common is the fact that they're both lawyers. I think one thing that's consistent in this whole sexual harassment scandal is that with a handful of exceptions, both parties will only ask for resignations when it's convenient and both parties have been extremely careless in handling these accusations. But that's for another column.
A look at the dynamics means a look at what Democrats are up against. The last time a member of that party won a Senate race was Richard Shelby in 1992, the man who saw the handwriting on the wall and became a Republican two years later and who would, ironically become Moore's colleague should he win. Shelby is doing everything he can to make sure that doesn't happen The last time a Democrat won a Senate race was Richard Shelby in 1992, the man who saw the handwriting on the wall and became a Republican two years later and who would, ironically become Moore's colleague should he win. Shelby is doing everything he can to make sure that doesn't happen and when he returned his ballot via absentee, said he voted for someone other than Moore (he declined to say for whom).
The closest Democrats have come to winning a U.S. Senate seat since that time was in 1996, when State Senator Roger Bedford only lost to Sessions by the relatively close seven percent. But since then, Republicans have gone up and up and up. Obviously, the race has turned conventionality on its head except for the thesis. That Alabama is a very conservative state that, even in the worst of circumstances such as now, will not abandon old habits easily. . It seems as though one question looms and while polls show the race to be close, most pundits give a slight edge to Moore. That's difficult to argue with but in any case, let's look at the dynamics will govern tomorrow.
For starters, how many voters are telling posters that they're going to vote for Jones when they are truly embarrassed to say that they're going to vote for Moore because of the allegations? On the flip side, are there voters who are responding that they will be voting for Moore when they're actually planning on going Jones but don't want to say so due to embarrassment of his being fairly liberal?
What will black turnout be like? It's no accident that Doug Jones has been stumping black churches – nine of them in the Tuscaloosa area alone last Sunday. Civil rights icon John Lewis and New Jersey Senator Cory Booker campaigned in Alabama this past weekend (and Charles Barkley is expected to in the waning hours). Then there is the fact that Jones and his allies are stumping hard while, putting it generously, Moore has conducted a stealth campaign. In the last week, his appearances have been non-existent. Perhaps the press-the-fleshm grip and grins are not necessary in a conservative state but with a candidate as beleagured as Moore, it is surely risky.
Finally, with a poll showing Trump's popularity surprisingly low in the state (about even which is a real let-down for a Republican in this state), and with many, many people turned off and confused by the allegations, how many will sit it out altogether? Shelby in a sense did just that but that's just it. If the absentee ballot request is any indication, turnout is expected to be through the roof and that's just what Democrats need. But, Alabama is such a conservative state that there may be mathematical limitations on how many votes Jones can feasibly expect to get. That's where Republican-leaning centrists come in and Jones literally has no margin of error in hoping that they not only turn out, but are able to otherwise put to rest their reservations about voting for a Democrat to rest.
Moore is a master of controversy in Alabama. He was twice removed by the Supreme Court. He has made hard-lined comments against gays, has defied Supreme Court orders to remove a statue of the Ten Commandments from public grounds and even seemed to say that America was last at its greatest during the Civil War because although there was slavery, the nuclear family was together.
Anecdotal evidence is that most hard-conservative voters will stick with Moore because they are swayed by arguments that a vote for Jones is one more vote for Democratic boogeyman, specifically Chuck Schumer and Nancy Pelosi. There was a recent report this week of a focus group in with 12 voters who gave invarying responses about whether they actually liked Moore or whether they just were voting him because of convenience, but the bottom line is that they are still opting to send him to Washington (another interview found 14 white men in a coffee shop and not one was willing to go Moore). Again, how all pull the lever in the privacy of a voting booth is another matter. We know Jones' abortion rights platform is a hindrance in a state with such a large number of evangelicals.
For decades if not centuries, Alabama has proven itself a bad joke for embracing not only change, but progress. In the 60s, the nation watched in horror as it was dragged kicking and screaming to provide basic rights to African-Americans. In 2006, more than 40% of Alabamans opposed removing a provision in the state Constitution banning interracial marriages. Two years before that, a majority of voters (50.1%) actually opposed removing language from the Constitution barring segregation in the schools. While the matter has long ben settled law by the various courts, the fact that citizens were resisting the concept is just plain scary.
Will Alabama tomorrow prove itself more like it's neighbor to the east, Georgia, or it's neighbor to the west, Mississippi? We'll most likely know before all the votes are tallied but given the Yellowhammer State's reputation, I suspect that sadly,it will be the latter.