Published in The Moderate Voice on November 7, 2016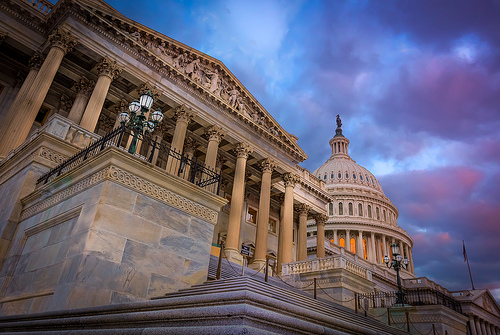 The day before Election Day, the race for control of the U.S. Senate is not only tighter than ever before, but tighter than any cycle I am old enough to remember. The 54-46 Republican majority is at serious risk but the contests that will determine the balance of power are close and in plain english, uncallable. Predicting which way either will fall may be an exercise in futility until the polls close- and perhaps even after. But staying true to my reputation, I will try to do so anyway. After all, I'm a political analyst who's been doing this since the early 90's so, to wimp out now would just be very unbecoming.
More than any cycle, the lack of stability within the polls has been profound. In the five most closely contested contests – Missouri, Nevada, New Hampshire, North Carolina, and Pennsylvania the lead has see-sawed within the candidates. Similarly, seemingly indomitable leads in Indiana and Wisconsin have dwindled to the frontrunner be overtaken in the former, and dangerously close to being overtaken in the latter.
That said, let's look at the math.
Republicans head into the cycle with 24 seats to defend, compared to just ten for Democrats. Of the Democratic seats, nine are safe (only Nevada is at the slightest bit of risk). But the Republicans have about eight on the watch list, including one – Illinois, that is certain to fall to the Democrats.
With that in mind, allow me to offer my round-up on the states from the most and least likely to switch parties.
Wisconsin
Here we have one of two states Republicans had long ago conceded was likely to be lost (Illinois is the other). But the race is now a tossup. For Feingold, this is little different from what he is accustomed. In his first win in 1992, a 15 point September lead turned into a nail-biter in the final week, but, ina year when another Clinton was first winning the Presidency, Feingold ultimately won by 7. In '98, he actually appeared on the verge of losing his seat but rallied to win by 3%. And in 2010, his ultimate margin of defeat by Ron Johnson was half of what had been initially expected. Johnson needs lukewarm Trump voters in the WOW region (Waukesha, Ozaukee and Washington) to show up and he hasn't been shy about urging other voters to put a check on Hillary. This has resulted in a few memorable ads. To the surprise of many, Hillary has not sunk as far in Wisconsin as other states and in the end, Feingold will reclaim his seat.
Crass's Call: Russ Feingold (D) 51% Ron Johnson* (R) 47%
Pennsylvania
Republican incumbent Pat Toomey and his challenger, Katie McGinty are locked in one of the nation's closest, and most expensive races as the $31 million between both candidates has been dwarfed by nearly $100 million more by outside interest groups. That Toomey has a chance to survive is a credit to his skills, both as a campaigner and trying to walk a fine line in a Democratic leaning state which has been reflected by his endorsement by Gabby Giffords group. His problem is his party's candidate for President, with whom Toomey has expressed "disappointment" but has also said would be more "constructive." McGinty has not set the world on fire but seems to be benefiting from Trump's collapse in the collar counties. Republicans are pushing for Clinton-Toomey voters but this may give McGinty the upper hand.
Crass's Call: Katie McGinty 49% (D) Pat Toomey* (R) 47%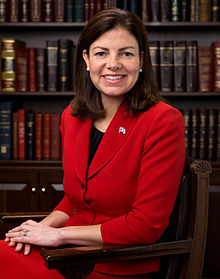 In a gut-wrenching call, I am predicted incumbent Kelly Ayotte will hold her seat by the narrowest of margins
Photo via the U.S. Senate
New Hampshire
I am not alone among political analysts by lamenting how this has been the toughest race to get a wrap-around. Both candidates can be called titans in their party, with incumbent Kelly Ayotte and Governor Maggie Hassan having led their state ticket. Ayotte has been much criticized for saying she'd "support but not endorse" Trump Democrats seized when she said she "absolutely" would consider Trump a riole-model before clarifying later in the evening. Hassan's approach has been to hit Ayotte on Trump hard but also cite her own record. Independents dominate the vote which often makes prediction as tough as Granite. Drawing conclusion from New Hampshire's ballot counting typically commences quickly but slows as smaller towns and villages report. New Hampshire has tightened considerably at the Presidential level and, while there are signs that Clinton has regained a footing, I am going to go against grain of most of the other analysts by predicting a narrow Ayotte hold, thus depriving Democrats of a 51st seat.
Crass's Call: Kelly Ayotte* 49% Hassan 47%
Missouri
Blunt, like Burr, has taken hits for his campaign style. His rival, is literally a fresh face. Missouri Secretary of State Jason Kander, has won rave reviews for a series of nationally noticed ads, one of which has been considered the best of the cycle. How big was it? Political junkies all remember Iowa Senate candidate Joni Ernst's "Make 'em squeal" piece and it changed everything. But Ernst had the political wind at her back – Kander does not. Polls at the Presidential race were once close but Trump's standing seems to have risen as of late. But Blunt has actually been running somewhat behind Trump in Missouri. One reason is energy and style. At 35, Kander is seen as a "fresh face." Blunt has held various offices for 30 years and his family are all lobbyists. The question is the following. Will turnout in GOP friendly turnout enable Blunt to win or will Kander's personal charm convince voters to split, similar to the way his would-be senior colleague, Claire McCaskill did in 2016. I will go with the latter, albeit only by the hair on Kander's chinny-chin-chin.Again, this is a departure from my colleagues who mostly have New Hampshire flipping before Missouri and that does have credibility. But being Missouri, you have to "Show-Me."
Crass's Call: Kander (D) 49% Blunt* (R) 48%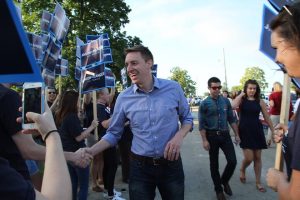 The race will be a barn-burner but energetic Missouri Secretary of State will edge out Republican Senator Roy Blunt
Photo via Roll Call
North Carolina
Two-term Senator Richard Burr has always been stubbornly ahead of his rival, Democrat Deborah Ross but there are signs the pressure might be getting to him. First, the normally genial Senator barred the <em>Raleigh News & Observer</em> from press conferences. Then, he said the Senate should go a full four years without confirming a Clinton Supreme Court nominee. But he stepped in it by saying he was disappointed Hillary Clinton's face was not on a bulls-eye. This was on top of Republican complaints that Burr was not taking his race seriously. Ross's problem is that early voting was well underway when the gaffes occurred. the state GOP has been relentless in attacking her tenure as head of the state ACLU, and it has made a difference in denting her negatives. Meanwhile, in perhaps a tactical acknowledgement that he needs all of the help he can get, Burr has fully embraced Trump. That is risky but with the state evenly divided at the Presidential level, but with early voting among African-Americans down substantially, it appears
Crass's Call: Burr* (R) 49% Ross (D) 47% 
Nevada
Heck might be the most obvious victim of Donald Trump. Before the "Access Hollywood" tape, the three-term Congressman from a swing district was leading ex-Attorney General Catherine Cortez Masto for the seat Harry Reid is vacating. Masto had strong Democratic support but had been running a lackluster campaign that had some Democrats concerned that they'd lose the seat. Now, that has flipped. Heck has been doing a pretzel like contortion on Trump, earning boos from Trump backers by declaring post-tape that he should withdraw. More recently, he has backtracked saying, "I think if you meet the constitutional qualifications and you're selected by the Republican Party, then you're qualified to be President." But he still hasn't said for whom he'll vote. Meanwhile, Masto has pulled ahead somewhat and evidence is that Democrats are getting their vote out in extraordinary numbers. This means a Masto win.
Crass's call: Masto (D) 47% Heck (R) 44%
Indiana
It wouldn't be an an exaggeration to call Evan Bayh the king of Indiana. At 33, he was a popular moderate Governor who shoved incumbent Republican Senator Dan Coats into retirement to take the seat himself in 1998. Now, in a bit of irony, Coats is retiring and Bayh hopes history will repaet himself. That is exactly the reason Democrats, led by Chuck Schumer, lured Bayh into the race. For Democrats, that was the high point spot. What happened after proved to be a bad joke, perhaps not on the level with Trump's campaign, but a joke nonetheless. Bayh was hit by revelations of having spent limited time in Indiana (and staying in hotels when he was there) and lobbying for a lucrative job even before he left the Senate payroll. While he claimed "no reconnection (was) necessary, I've never lost connection to the people of my state," Republicans had other ideas and his GOP opponent, Congressman Todd Young was armed by national Republican organizations with an ability to exploit those weaknesses. Bayh would have enough trouble shaking this off in a blue state but with Indiana headed firmly into Trump's column, his task has become near mission impossible. And that'll show on election night.
Crass's Call: Todd Young (R) 51% Evan Bayh (D) 46%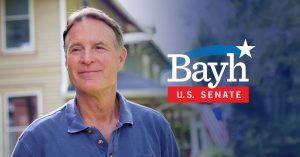 There is major irony in Evan Bayh's slogan, "Bayh for Indiana" because Republicans have been successfully able to exploit his very limited ties to his home state
Photo via evanbayhforindiana.com
Florida
Democrats were doing a dance among themselves as for whether to fund Patrick Murphy, after having written him off previously. Murphy has run anything but a strong. Murphy has run a ho-hum race and Rubio has outperformed Murphy in debates and gained traction by hitting him for relying on his father to jump-start his business, a charge Murphy has done little to back away from.
Democrats had all but abandoned Murphy in late September by cancelling their investments but, when recent polls showed tightening, one faction (led by Reid) wanted to make a last-minute push while another (his likely successor Schumer) did not. Pro-funding advocates is that a Rubio win would enable him to start readying for the 2020 Presidential nomination. The result seems to be a compromise with limited funding. But Mitch McConnell is not going in with limited funding. Rubio seems to be out-performing Trump just enough in the Cuban-American communities and with other constituencies, including his own party. Democrats contend that the larger the turnout in other minority communities, the closer Murphy comes. that his victory, while not quite assured, seems more likely than not.
Crass's Call: Marco Rubio* (R) 51% Patrick Murphy (D) 46%
No longer close are two states, Arizona and Ohio, where John McCain and Rob Portman will win handy (McCain by luck, and Portman simply by hard work and deft political skills). Backlash from the enmity between McCain and Trump might show up in the margins as some conservatives might leave the Senate race blank but it should not affect McCain's ability to hold off Democratic Congresswoman Ann Kirkpatrick (I'll say by a margin of 53-44%).
Also keep an eye on Rand Paul's margin. Given the heavily conservative lean of his state, he is not in danger of falling to Lexington mayor Jim Gray, though the Democrat may carry two of the state's six Congressional districts (the Louisville based third and the Lexington anchored 6th) for a modest 54-46% win.
When all of the votes are counted – and possibly recounted, Democrats will see a net gain of four seats, enough to put them into parity with the GOP (and assuming there is a Vice-President Tim Kaine), enough to preside over the chamber but far from having control.